Adobe just introduced a new feature called AI-powered Denoise that takes noise reduction to the next level, thanks to the power of Artificial Intelligence. Lightroom Classic now leverages machine learning to more effectively remove unwanted color and luminance noise spots from your raw images.
Click here to download the examples in this video and play along! (Subscribers Only)

To access the new AI-powered Denoise option, you can either use the Photo > Enhance command from any module in Lightroom Classic or you can use the Denoise button that the latest release has added into the Develop Module Detail Panel.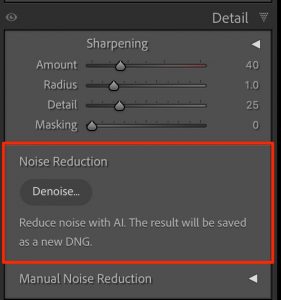 Once your AI Denoise processing is complete, Lightroom Classic will create a new DNG file for you. This file, which is similar to the type of .dng images that Classic automatically produces when creating HDR or Panoramic Merges, is a clean version of your raw image that you can immediately use for further image enhancements.
Although this technology is far superior to the manual noise reduction sliders that we have been using for a decade, applying too much AI-powered Denoise can result in the loss of some meaningful detail. Try experimenting with the new Amount control to find the right balance between AI noise removal and image detail preservation.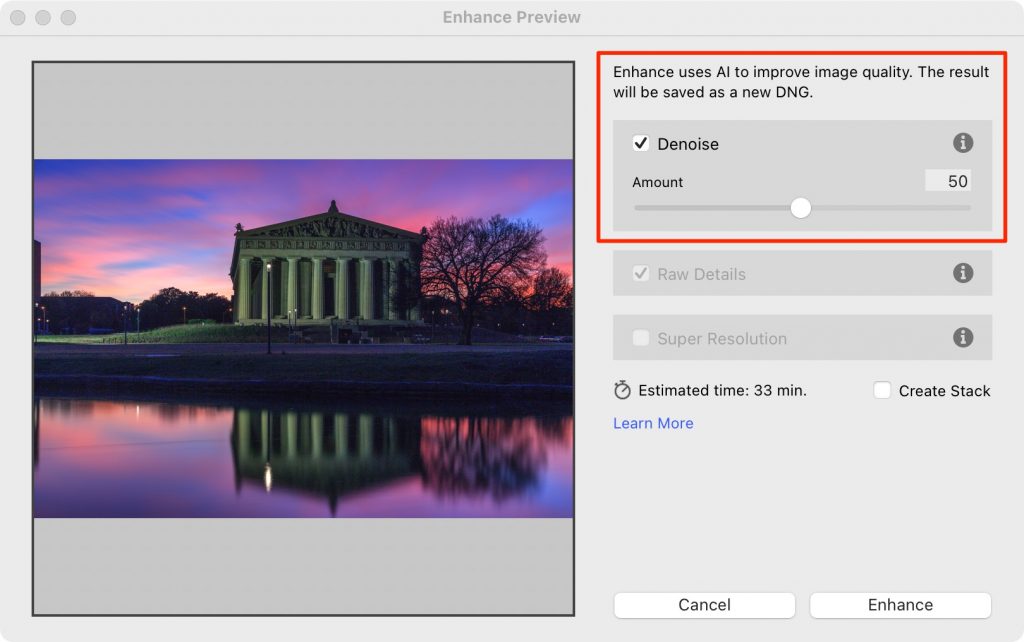 Right now, AI-powered Denoise only works with Bayer and X-Trans full-resolution raw files. The initial release of this incredible new feature will not work with other file formats such as JPEG, HEIC,TIF, or sRaw. This file format restriction may change someday but for now, this is yet one more reason why raw files are the superior choice when photographing in challenging situations.
It is also worth noting that AI-powered Denoise cannot be applied to a DNG file that you have already enhanced using the Enhance > Raw Details or the Enhance >Super Resolution commands. Fortunately, there is a simple workaround that I cover near the end of this video tutorial that makes it easy to sidestep this limitation.
If you are a photographer who's been struggling with noisy raw files inside of Adobe Photoshop Lightroom Classic then this revolutionary image cleanup tool is going to substantially improve your image processing workflow!