Adobe Photoshop Lightroom's Map Module is a phenomenal tool for landscape, travel, and documentary photographers. Although the Map Module is one of the most useful organizational features in the entire program, it gets almost no publicity. This is a shame because the Map Module can make finding images that you captured in memorable locations super easy.
Perhaps the power of Lightroom's Map Module gets overlooked because of two myths and misunderstandings.
Myth #1: There is a mistaken belief that you need to shoot with a camera that has a built in GPS receiver in order to use this Module. As you can see in the video tutorial above, this is not true at all. Adding GPS data to photographs that were not geotagged by the camera at the time of capture is literally drag-and-drop easy.
Myth #2: There is a fear amongst some Lightroom users that including geo-referenced data in their files will broadcast their favorite shooting locations or compromise their privacy.
This is definitely a meaningful concern, but I assure you that there are safeguards built into Adobe Photoshop Lightroom to ensure that your privacy is indeed protected without missing out on the power of this fantastic organizational tool.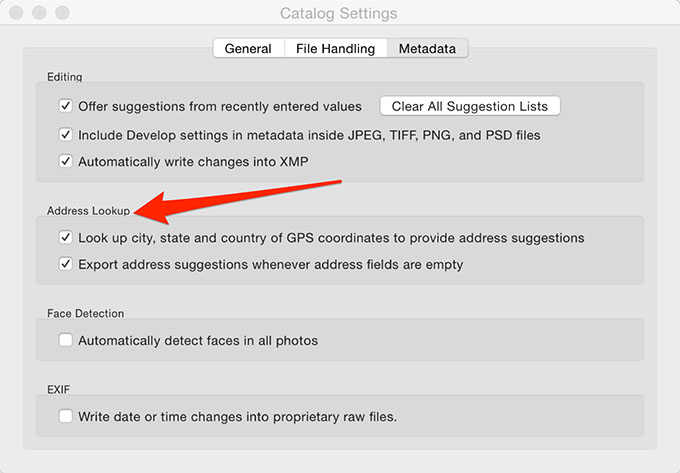 Another important point is that the Map Module is one of the few places where Lightroom can automatically do things for you. If you enable the Address Lookup options in Lightroom's Catalog Settings menu (see above), then Lightroom will try to automatically write words into the Country, State, and City metadata fields for you. This is a useful time saving feature.