I wish that Adobe Photoshop Lightroom Classic included a "best practices guidebook" for new customers. Unfortunately, Adobe leaves it up to each new user to do their own research and to find their own path. The problem is that not every image storage system works well with this software. There are indeed file / folder / and image storage hard drive set-ups that ultimately end up becoming failures. Let's look at an example below.
A cautionary tale
In this lesson's video tutorial, I preach my gospel of file and folder naming simplicity. Now not everyone is going to like this message, but let me explain where I am coming from. I have been teaching Adobe Photoshop Lightroom Classic since the very first day that this program appeared. I have helped hundreds of photographers master Lightroom Classic, and I've had the chance to see what works and what doesn't work for an incredibly large and diverse audience. What I have seen again and again is that bad folder / file names create enormous headaches as the years roll by.
Most people start their digital photography library with the assumption that descriptive words in their folder / filenames will help them keep things organized. I too was guilty of this when I first switched over to digital fifteen years ago. At first I created a folder for pictures of people which I called PORTRAITS and one for pictures of animals which I called WILDLIFE. This seemed like a great idea at the time but soon the cracks in this system began to appear.
At first everything seemed ok. Images of friends and family were all sent to the PORTRAITS folder. Images of bears, bison, and eagles all went to the WILDLIFE folder. But then it all fell apart when I got a photograph of a lion chasing a person. Was this a portrait of a person in terrible danger? Or was this a picture of wildlife being wild?
Ok, I made up that last part to prove a point. Any folder structure that relies on categorization–FAMILY, FRIENDS, PORTRAITS, WILDLIFE, ARIZONA–is ultimately doomed when you shoot images that straddle the lines. Which brings me to my first "best practices" rule.
Rule #1
Your image storage folder names are not the right place for descriptive information. Trying to add this information into your folder names when working with Adobe Photoshop Lightroom Classic only adds complexity and reduces your efficiency. Lightroom Classic has an array of tools designed to keep track of descriptive information such as who is in a photo or where it was taken. Tools such as Keywords, Star and Colored Labels, and Lightroom's Map Module are a much better way to keep track of these things. Each of these tools will be covered in later lessons.
I strongly suggest building your folder structure around the date that each image was captured instead of around descriptive information. Following this advice will make your digital photography storage life much simpler in the long run.
Rule #2
Use Lightroom to create your folder and file names based on dates. As is explained in the video tutorial above, Lightroom Classic can create file and folder names for you based on the day that your images were captured. (Make sure to check in your camera's menu that the accurate date and time is set.) Lightroom can do all of the sorting and renaming for you upon Import so that all of today's photos automatically land in today's dated folder; all of yesterday's photos land in yesterday's folder, etc. This will keep everything neat and tidy, bringing me to my third "best practices" rule.
Rule #3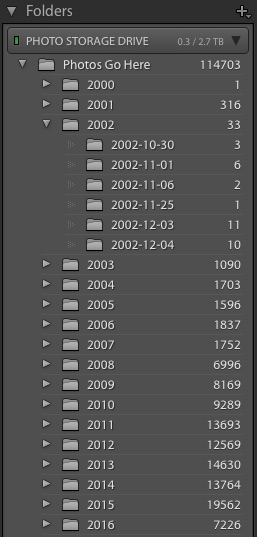 Create a master 'Photos Go Here' folder to contain all of your photography. I urge you to create a single, well-named image storage folder for yourself before you start importing images into Lightroom Classic. Before proceeding, please take a moment to create a master folder where Lightroom can put all of your dated image storage folders once you begin importing. You'll see in the video tutorial that I call this my PHOTOS GO HERE folder.
This is a crucial set-up step because we know that the day will eventually come when your current hard drive is no longer big enough for your image storage needs. We know that the computer that you are using right now is probably not the computer that you will be using five or ten years into the future.
When the day inevitably comes to upgrade your computer or your external hard drive, it will be easy to move one top-level folder– the PHOTOS GO HERE folder– from one drive to another. Moving this folder will automatically move the hundreds or thousands of subfolders that contain all of your photography. This will be much easier than moving dozens of loose image storage folders that are scattered all over your computer.
Important advice
Now if you have previously been using Lightroom Classic and you have already created a mess of separate folders for each topic or theme then my advice is let it be. Focus instead on creating an organized system moving forward. Please do not go back and undo your current system. Renaming your old files or reorganizing your old folder structure would be counter-productive and potential dangerous. Don't do it! I recommend to simply follow my folder and file naming advice from this point forward.