You must understand how the Adobe Photoshop Lightroom Classic Catalog functions if you want to master this software. Ninety-five percent of the frustration that most Photoshop Lightroom Classic users experience stems from a failure to truly understand what the Lightroom Catalog is and the role it plays in their daily lives.
What is a Catalog?
Simply put, Lightroom Classic is a database that indexes your photos. This allows you to organize thousands of digital images, easily finding any photo, thanks to Lightroom's robust search tools and other organizational features.
The most important thing to understand about this software is that your actual images are not stored or copied into the Adobe Photoshop Lightroom Catalog. The Catalog merely creates a searchable index to help you find the images on your hard drive. The easiest way to grasp the basics of this concept is with an analogy, so please bear with me for a minute…
Think of it this way
In the real world– the world that exists far away from our glowing computer screens– we all love libraries. Libraries are wonderful buildings full of books and magazines where you can wander around for hours browsing and exploring. This exploration can be rewarding, but picking out random books is not the most efficient use of the library's resources. A well designed library is a place where someone can track down whatever they are looking for in no time.
In the old days, locating a single book that was part the library's vast holdings was easy, thanks to the library's card catalog. The card catalog was a useful organizational tool because it was a searchable index with notecards that track every single book that the library owns. Each index card inside of the wooden card catalog box was a reference point for a single item that the library owned. Each index card contained information including the book's title, its author, and its subject matter. It's index card also included a Dewey Decimal Number which mapped the exact location of the real book somewhere within the building.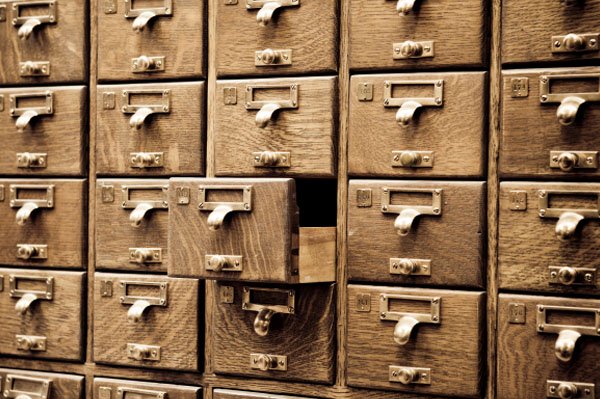 In modern words, the wooden box that is the card catalog is a "database" and each book that it indexes is an "object." Each index card acts as a reference point, or placeholder, for a particular object that the library is storing. When the librarians add new books into the library's holdings they also add new index cards into the wooden card catalog box.  The card catalog allows library visitors to track down exactly which books they need in no time.
A key concept
The Adobe Photoshop Lightroom Catalog does exactly the same thing. Your Photoshop Lightroom Catalog does not store your photography. Yes, there are thumbnails and previews–tiny copies of each photo–in the Lightroom Catalog but your real files are not stored inside of this "wooden box." The Catalog is just an index that holds reference points for where the photo is actually located, on your hard drive.
The very first time that you launch the Adobe Photoshop Lightroom application you are creating an empty database file. To carry on with this analogy, you are creating a new wooden box to hold all of your index cards. All Lightroom Catalogs begin as empty boxes because they do not yet contain any reference points. We use the Import Dialog in Adobe Photoshop Lightroom to create those reference points. Importing in this program means to create new index cards.
Coming to terms with the idea that the Adobe Photoshop Lightroom Catalog is a database that tracks your actual digital images is critical to using this software properly. Photoshop Lightroom users who do not understand this are likely to run into trouble as they use the program.
Now that you understand what a Lightroom Catalog is, let's cover another important topic pertaining to Catalogs in the next lesson.