Adobe Photoshop Lightroom is a wonderful image management tool but it is not a backup system. Nothing electronic lasts forever. The real question to ask yourself is not "when will my hard drive fail" but rather "what steps can I take right now so that I am properly prepared for my hard drive's inevitable demise?"
Lightroom Backup Myths
Many novice Lightroom users are lulled into thinking that their precious images are being safely protected by three very misleading features in this program. First, many people mistake Lightroom's daily / weekly / monthly Catalog Backup feature for a real backup of everything. This Catalog optimization feature only creates a duplicate copy of your Lightroom Catalog file.
Adobe Photoshop Lightroom's internal Catalog backup utility is not a backup plan. This feature will not protect your images at all if disaster strikes!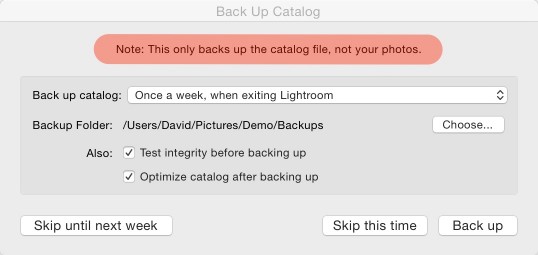 Some Lightroom users are also fooled by the Make A Second Copy To: feature in Lightroom's Import Dialog. If enabled, this feature will make you a second copy of your images as they are added to your Lightroom Catalog and store that copy in a separate place. This sounds like a backup but there is a huge problem here.
The problem is that Lightroom never updates these files. Lightroom will not update your "second copies" with any of the work that you do after the files have been imported. If you had to resort to using these files after a hard drive failure then you might find yourself adding every keyword, removing every dust spot, and doing a ton of work all over again.
Finally some users confuse the "Adobe Creative Cloud," "Smart Previews," and "Lightroom Mobile" with some sort of automatic online backup system. Sadly, none of these options or features actually protect your Catalog or your original images. Don't be fooled. It is up to you to design and maintain your own redundant image and Lightroom Catalog backup system. Adobe has left this one up to you.
Creating your Backup System
If all of this sounds overwhelming then please don't panic. Here's the good news. All that it takes to make a really good backup system is a pair of inexpensive external hard drives and some simple software. To make a robust backup, all that we need to do is configure a backup utility program to copy everything from your primary photo storage drive over to one of your inexpensive external hard drives on a regular basis.
We can configure software like Apple's TimeMachine (Mac) or Carbon Copy Cloner (Mac) to automatically copy everything from your primary disk to one of your backup drives while you are sleeping. As long as you rotate between the two backup disks on a regular basis then you have a robust, redundant backup system!

Part I: On-site Backup
Most people do not need to invest in fancy RAID drives or sophisticated data duplication machines to build a really good backup system. There is no reason to spend extra money on fast drive connections or anything fancy when shopping for external hard drives that are going to be used solely as a backup system for your images. A pair of ordinary "plain Jane" USB external drives are perfectly sufficient for most people's backup needs.
I find that it really helps to give all of my external hard drives meaningful names. I like to assign clear names to each drive before I begin configuring my backup software. Simple drive names like "Backup Disk 1," "Backup Disk 2," and "Main Photo Drive" are all that's required here. I also find that labeling the outside of my hard drives with a permanent marker, or a sticky label, also helps to prevent confusion as the drives get rotated in and out of my office on a regular basis.
Giving all of my drives clear, meaningful names right away also helps me remember the "master plan" which goes like this:
When I add new photos into my image library, I copy them from my digital camera's memory card directly to my primary (main) hard drive using Lightroom Classic's Import Dialog. I do not copy any of my photographs from the memory card to either of the backup disks. Copying new images from my Main Photo Drive over to one of my backup drives is my backup software's responsibility.
If I decide to enhance one of my photographs using Adobe Photoshop Lightroom Classic, Adobe Photoshop, or any other program, then I only work on the image that is stored on my primary (main) photo drive. I never work on any of the files on my backup drives. It is my backup software's responsibility to make sure that all the changes that I make to the images on the primary are passed along to the backup disks.
If I decide to delete a bunch of lousy photos from my image library then I delete the files from my Main Photo Drive. I never delete files from my backup disks. Removing images that have been deleted from the backup disks is my backup software's responsibility.
The point is that I do not touch any of the files that live on Backup Disk 1, or on Backup Disk 2. Only my backup software is allowed to make any changes to the files that live on my backup disks. I do my work with the images on the primary (Main Photo Drive) only, and I trust in the backup software to take care of everything else!
I can do this because good backup software, once configured properly, can handle the whole process of copying from A to B or A to C without my involvement. Once I get everything all set-up, it is the backup software's responsibility to copy all of my additions, alterations, and deletions from the primary drive over to Backup Disk 1 and Backup Disk 2 automatically.
In the video tutorials below, I demonstrate three ways to build a redundant backup system on a Mac and one way to do this on a Windows PC.
The first two tutorials are for Mac users. In the first video below, I demonstrate how to configure Apple's free Time Machine backup utility so that it will backup my entire computer to a pair of cheap external hard drives. Next, I demonstrate how to build a more flexible backup system using the awesome Carbon Copy Cloner backup utility from Bombich Software.
Finally in the video below, my good friend Forest Chaput from the Rocky Mountain School of Photography explains how to build a backup system using SyncBack for you Windows computer users.

Part II: The Weekly Backup Drive Shuffle
Once my new external drives are properly formatted, and my backup software is all set-up, then I can let the software do its job. On the first day, I let my backup utility copy everything from my primary Photo Storage Disk over to Backup Drive 1. Since the software has to copy everything, this job might take a long time to finish the first time it's run. However, as soon as it completes I can breathe a big sigh of relief. I can relax a little because now I have two copies of my precious images– one copy, the "working files," are on my Main Photo Drive and a backup copy now exists on Backup Disk 1.
As soon as the first backup job completes I can safely disconnect Backup Disk 1 and connect Backup Disk 2. Now I can let the backup utility make another copy of everything that is on the primary Photo Storage drive, only this time I tell my backup software to put the files on Backup Disk 2.
As soon as the second backup is complete I now have three copies of all my precious photographs! Now I have a robust backup, but by keeping all of these hard drives in my home office, I am still putting my files at risk. Keeping both of my backup drives in the same room as my computer is still "putting all of my eggs in one basket" if something catastrophic were to happen to my house. To really gain some peace of mind, I need to store one of these backup drives offsite, far away from my home office.
Now that I have two complete backup disks I can start the "weekly backup drive shuffle." In my world, Backup Disk 1 gets used for about a week and then I leave it over at a friend's house. While Backup Disk 1 is stored at my buddy's house I use Backup Disk 2 for my daily backups. A week or so later, I go over and drop off Backup Disk 2, have a beer with my friend, and come home with Backup Disk 1. Switching the backup drives around each week is easy and it gives me real peace of mind.
The important part is that by storing one of my backup drives outside of my house, I am ensuring that my photos and Lightroom Catalog would survive a truly catastrophic event such as a house fire, a lightning strike, or theft. Keeping a regularly updated backup drive offsite from your Main Photo Drive is a vitally important part of any backup plan.

Part III: Online Backup Options
Online, "cloud," backup technology holds tremendous promise but it is no substitute for my pair of rotating cheap external hard drives mentioned above. Again, do not let the words "Adobe Creative Cloud" fool you. Adobe is not a backup service and their poor choice of marketing language does not mean that they are magically protecting your images. Companies like Carbonite or Backblaze offer real cloud-based backup services.
The problem right now is that most of us do not have fast enough Internet connections to continually protect terabytes of data. Unless you have a fiber-grade Internet connection, then it could take months of non-stop uploading to transfer a complete copy of your entire image library to an online backup account. Likewise, it might take weeks of non-stop downloading before you could recover your entire large image library from a cloud account following a major disaster unless you are fortunate enough to have a lightning fast Internet connection.
I do believe that cloud backup is a great idea and a sign of the future. But for now I view it as just one more layer of protection and not a replacement for my rotating external hard drive backup scheme.

Last Thoughts
Is all of this a little paranoid? Maybe. But if it seems like a lot of effort to go through, then please carefully consider the dismal alternatives. If you have taken no steps to prepare for the inevitable, then what will you lose when your computer crashes? What will you lose when a power surge fries all of your hard drives? What will you loose if a flood washes through your home or a tornado touches down in your neighborhood?
Your photos are irreplaceable. Are you willing to sit back and wait for those images to vanish forever? There are no guarantees in life, but I believe that the time and effort spent in building and maintaining a backup system could truly save you from losing all of your photographs one day.