Installing the latest Adobe Photoshop Lightroom Classic Upgrade can be a challenging experience. In this video tutorial, I will walk you through each step of the Lightroom Classic Version 10 upgrade process and steer you away from the most common pitfalls.
There are a couple of things that you should know before you being the Adobe Photoshop Lightroom Classic upgrade process. First, you need to be sure that you are installing the right program because there are currently two very different animals out there that share the word "Lightroom."
If you are unsure about the differences between Adobe Lightroom (Cloud-Based) versus Adobe Photoshop Lightroom Classic means in this context then please click here to learn how Adobe Lightroom (cloud-based) and Adobe Photoshop Lightroom Classic differ. The full names of these two programs are important here!
This video is intended for those who want to use the desktop-focused version of Adobe Photoshop Lightroom Classic only. If you are looking for advice on how to install the other type of Lightroom, the cloud-based program whose name is Adobe Lightroom, then please watch this tutorial instead.

Step 1: Back Everything Up
Upgrading to Adobe Photoshop Lightroom Classic version 10 should not harm your computer or your photographs. The odds that something will go tragically wrong here are very slim but it is always wise to create a COMPLETE BACKUP of your entire photo library and your Adobe Photoshop Lightroom Classic Catalog before you being the upgrade process.
Step 2: Update the Adobe Photoshop Lightroom Classic Application
The second step in the Adobe Photoshop Lightroom Classic upgrade process begins in the Adobe Creative Cloud Installer App. It is crucial that you understand which type of "Lightroom" you are using at this point. Pay attention because upgrading the Cloud-Based type of Lightroom will not help you here.


At this point, I also need to point out that your computer must be running an Operating System that can handle the latest version of Adobe Photoshop Lightroom Classic. If your computer's Operating System is too old then the tenth version of Adobe Photoshop Lightroom Classic will not be available for you within the Adobe Creative Cloud App.
Click here to see the complete list of minimum system requirements that are needed to run Adobe Photoshop Lightroom Classic Version 10 (October 2020 Edition.)
Step 3: Upgrade your Adobe Photoshop Lightroom Catalog To The V.10 Lightroom Classic Catalog Format
Beneath the hood, each version of Adobe Photoshop Lightroom Classic uses a slightly different Catalog format. This means that simply installing the latest version of the Adobe Photoshop Lightroom Classic Application is not enough so the next step is to update a copy of your existing Lightroom Catalog.
The Adobe engineer's have been quite careful here. Upgrading an existing Adobe Photoshop Lightroom Classic Catalog does not alter your old .lrcat file. Lightroom Classic will automatically make a copy of your older .lrcat file and then it will apply the version 10 changes that it needs to make to the new copy only at this point. If you are working with a large Lightroom Catalog then the Catalog Upgrade step might take a while so please be patient here.
You will end up with two separate .lrcat files once this process completes. By default, your new Adobe Photoshop Lightroom Classic Catalog will automatically have the letters "-v10" appended onto the end of your old Lightroom Catalog's file name.
This automatic renaming is a nice touch, but I believe that the -v10 tag alone is not enough to prevent potential confusion which is why I explain how to change up your Catalogs name to keep things nice and clean at the end of this video tutorial.
Step 4: Set Your Preferences
Once you have successfully upgraded, and renamed your Catalog, then you should visit the Lightroom Classic Preferences Menus. To further prevent confusion, I urge you to visit Preferences > General Tab and then to tell Lightroom Classic Catalog exactly which Catalog it should load for you whenever you start up this program.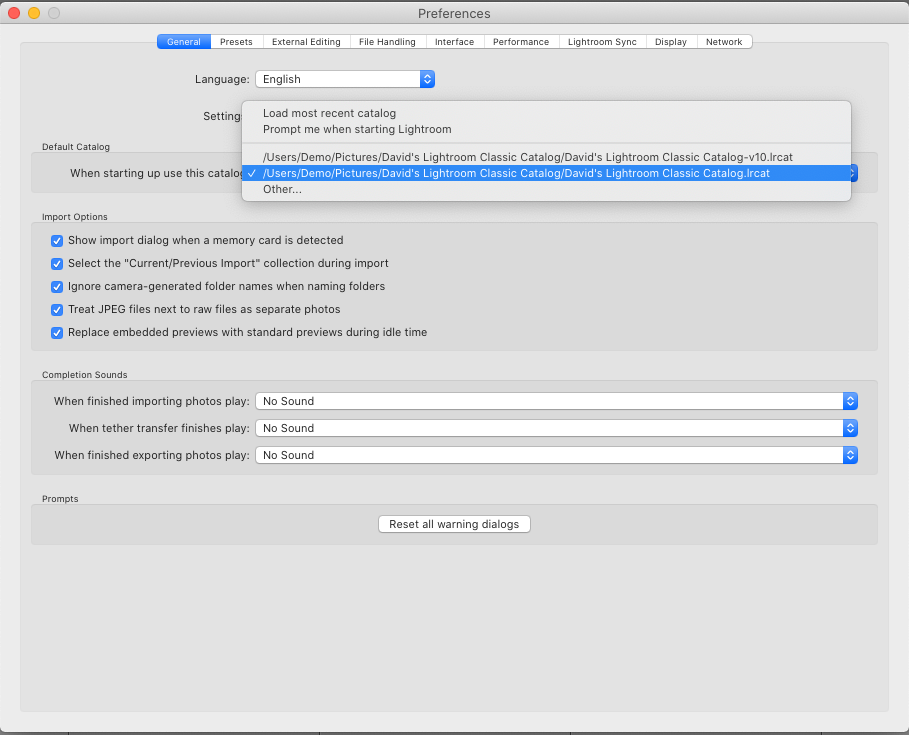 This is where renaming your Catalog files really helps. Those who skip this step run the risk of create a mess of needless extra .lrcat files if Lightroom asks them to upgrade their old Catalogs again and again.
Step 5: Back Everything Up Again
If the upgrade process worked properly then you should now have access to all of your existing work plus the exciting new tools that are available inside of Lightroom Classic version 10. It may seem like overkill but I strongly suggest that you to take this opportunity to make another complete backup of everything at this point so that you are ready in case disaster strikes.
If all goes well then the whole process from start to finish usually takes less than one hour. Things might take considerably longer though if you are using a very slow Internet connection, or if you are upgrading an enormous Lightroom Catalog.
Finally, don't forget that if you are using Adobe Photoshop Lightroom Classic on more than one computer then you will need to repeat the program installation process only on each machine. Likewise, if you are using more than one Adobe Photoshop Lightroom Classic Catalog then you will need to repeat the Catalog upgrade process part of this process again and again for each separate Catalog.